If you are looking for the best cauliflower recipe and love the peculiar sweet and sour flavour you should definitely try sweet and sour cauliflower. The recipe is not hard at all, it only requires a little time and patience, and obviously a high quality cauliflower.
Keep on reading!
Best cauliflower recipe: the importance of raw ingredients
The first trick for making a good dish is indeed to choose excellent raw ingredients, better if they are locally sourced and treated as naturally as possible.
Sweet and sour cauliflower, with its peculiar flavour, is also great for encouraging those who usually turn up their noses at vegetables to eat more of them; with our tasty recipe you will prepare a delicious dish that is going to change the minds of those who avoid vegetables. After all, cauliflowers are rich in nutritional benefits and all doctors recommend consuming them regularly.
Let's find out together the health benefits of cauliflowers and how to cook them sweet and sour.
The properties and health benefits of cauliflowers
Cauliflower is a cruciferous vegetable that is well-known and appreciated since ancient times; there are indeed several records of the Greeks and the Romans consuming it regularly, especially for lessening the effects of wine.
As a matter of fact, this vegetable is rich in minerals and vitamin C, which are essential substances for the mineralisation and purification of the human body. Moreover, because of its fibre content it's often chosen as the main food in diets that are aimed at keeping balanced blood sugar levels.
Cauliflower is also ideal for low-calorie diets: if you wish to lose some weight you should definitely make a pasta dish (whole-grain pasta is preferable) or a side dish with this variation of the cabbage that is rich in water, low in calories and very low in fat. Therefore it's perfect for satisfying your appetite and reducing water retention without gaining weight.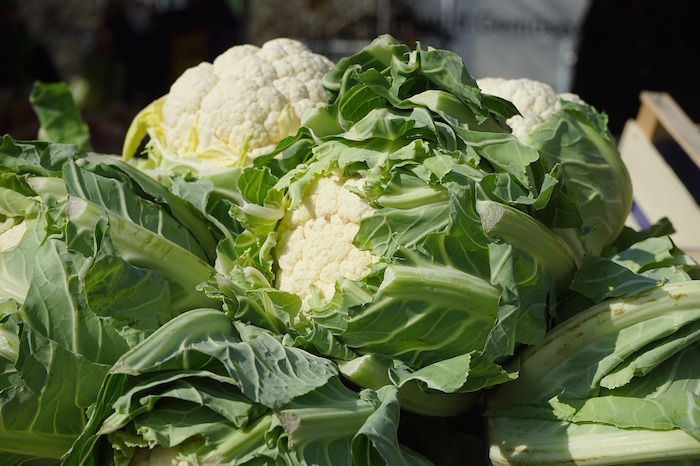 Finally, studies have proven that some substances found in cauliflower, such as antioxidant molecules (vitamins A and C) and glucosinolates, are important allies for cancer prevention.
Why sweet and sour cauliflower is the best recipe? An explosion of flavour!
Cauliflowers are resistant to cold temperatures; usually the best time of the year for cauliflowers is December to January. Thanks to our recipe you will be able to prepare jars of sweet and sour cauliflower to store and enjoy all year long, even as an appetizer!
Step 1: dice the cauliflower, rinse it and leave it in a colander to drain for a few minutes. Approximately, an average cauliflower shouldn't weigh more than 700 gr; if it weighs a lot more than that, then it's probably a not very natural greenhouse grown product.
Step 2: put in a pot 250 ml of white vinegar, 250 ml of white wine, 250 ml of olive oil, 50 gr of castor sugar and a spoonful of salt. Optionally, you can add 3 or 4 cloves or a bay leaf and bring to a boil.
Step 3: 10 minutes after it starts boiling, immerse the cauliflower tops and continue cooking for no longer than 15 minutes. We suggest you cut the cauliflower into small pieces so that it doesn't need to cook that long: by cooking it for over 20 minutes you might lose most of its nutritional benefits.
A little trick: if you prefer a more delicate sweet and sour flavour, only put half of the vinegar we suggested. Did you realise that when it was too late? No worries! You can dilute with water and get an equally delicious dish.
What is the best way to preserve sweet and sour cauliflower?
Place the cauliflower pieces into sterilized jars and fill to the brim with the cooking water. This way, your dish will keep for months, but remember to store the jars in a cool and dry place.
Once you open a jar, don't forget to keep it in the refrigerator for no more than 3 or 4 days, but we are sure that you will find sweet and sour cauliflowers so delicious that they will certainly be gone well before that!
The flavours of the land: many fancy and nutritious recipes at Re Maurì
Have we made your mouth water? Well, even cauliflowers and other vegetables can be the delicious protagonists of a dish, and here at Re Maurì we know it!
Chef Lorenzo Cuomo personally selects the best raw ingredients of our territory in order to offer starters, first courses, second courses and side dishes that are rich in flavour and nutritional benefits: taste and well-being, traditional flavours and the most innovative solutions all blend into a triumph of the senses that will enrapture you!
Not only the products of our generous and genuine land, but also fish dishes, such as the raw seafood buffet that we serve every day on the terrace, one of our customers' most appreciated courses. Our menu includes a wide selection of dishes that can meet every taste, rooted in the traditional Italian cuisine yet moving towards the most groundbreaking international gourmet frontiers.
Of course, every dish must be matched with the right wine to create a pair of sensations that enhance each other. For this purpose, our maître sommelier Roberto Adduono will be glad to recommend the best pairing to tickle your taste buds.
Our delicious desserts are a real treat, prepared daily with top quality ingredients. A frozen mojito to cool yourself down on a hot summer day or an enveloping chocolate soufflé to warm yourself up during the freezing-cold winter? We love them all!
Re Maurì is located in the stunning setting of the Amalfi Coast, where the sky and the sea meet and create a fairytale landscape that you can admire from our terrace. The whispering of the sea, the romantic colours of sunset, the music and our impeccable service will make your lunch or dinner at Re Maurì a unique experience that you will look forward to repeat.
If you need to plan a business lunch, a romantic dinner, a birthday, an anniversary or a party after an important ceremony, at Re Maurì you will find a perfect reception and the guarantee of a real Michelin-starred gourmet italian restaurant.
For any information or request, don't hesitate to contact us at
You can also book a table by filling in this form, but please make sure you do it a few hours in advance so that we will be able to arrange everything and welcome you as best we can.
Read the other blog articles:
Gulf of Salerno
Gourmet italian restaurant
Oligomineral water
Celiac-friendly restaurant in Salerno
Restaurant by the sea in Italy
Best restaurants Amalfi coast
Where to eat in Salerno
Fish restaurant Salerno
Seafront Salerno restaurant
Monkfish cacciatore recipe
Romantic restaurants Amalfi coast