Are you looking for a fish restaurant in Salerno? This town in Campania has got one of the oldest, richest and most delicious culinary traditions. If you live nearby or you have picked our wonderful land for your holidays, you have to go on a culinary tour to discover the local delicacies. Re Maurì is, without a doubt, the best fish restaurant on the Amalfi Coast and it was awarded a Michelin star just two years from its opening. We are particularly proud of this important accomplishment that repays our passion and daily effort to offer our customers unique and innovative dishes.
We are just a few minutes from Salerno, at the beginning of the road that leads to Vietri sul Mare and the Amalfi Coast. You will be able to enjoy the picture-perfect view from both our terrace and our indoor dining room, thanks to glass windows that will let your sight wander between the sky and the sea, in a suggestive and enchanting atmosphere.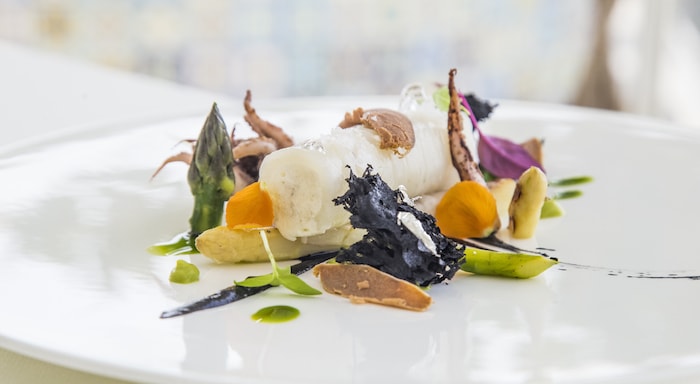 So, if you are looking for a fish restaurant in Vietri, Re Maurì is the perfect location for your business lunches, a romantic dinner with your partner, a lunch with friends or for celebrating a special occasion.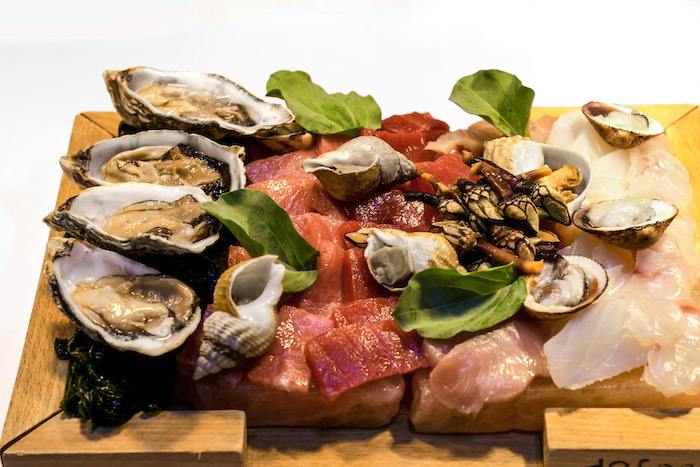 Raw fish restaurant on the Amalfi Coast: freshness, quality and benefits
Like many seaside towns, Salerno's key strength is the sea along with its products. One of the most renown traditions is the so-called "Pietra del Pesce", Italian for "fish rock". In the past, the fish that had just been caught were placed on a rock in order to be checked before they could be sold.Here at Re Maurì we have kept the same attention to quality and freshness of products as in the past. But don't worry, you won't find our fish raw on a rock! Raw fish is a light and complete food, perfect for a summer lunch or dinner, or, we don't see why not, as a starter during the coldest seasons. It's a tasty, genuine and light meal.It has got numerous nutritional benefits.
First of all, it is rich in high biological value (HBV) protein and essential Omega-3 fatty acids that contribute to the cardiovascular system's health and regulate triglyceride levels. As proof of the healthiness of raw fish, a research carried out by the European Food Safety Authority (EFSA) shows that an Omega-3 intake is fundamental to protect the heart and keep cholesterol levels under control.
Raw fish is also rich in vitamin B and microelements, especially calcium, that reinforces the bones, iron and phosphorus: an injection of energy for your body and mind. Lastly, we wish to underline that fish contains taurine, a substance that contrasts free radical formation, thus preventing cell ageing, hair loss and tissue fragility. But Salerno is not only sea: it's also land, a melting pot of different traditions that have mixed and have given birth to a unique culinary culture that you won't find in any other part of Italy. For this reason, Re Maurì offers a comprehensive menu that also includes meat and vegetable dishes, such as the rabbit and salted codfish cremino, the fusilli with pork chop and ragu and the spring lamb with foie gras.In order to enhance the triumph of flavours of our dishes, there's nothing better than a nice glass of wine.
Our sommeliers will lead you to discover our wine cellar and help you choose, among the numerous local and international labels, the wine that best matches what you have ordered. A meal cannot be considered finished without something sweet. Desserts are one of chef Lorenzo Cuomo's many crown jewels. Every day he pleases our customers' palate with his delicious creations. An enveloping molten chocolate soufflé, with its rich and delicious taste, or a refreshing frozen mojito? If you are in doubt, we suggest you try them all!
Fish restaurant in Salerno on the Amalfi Coast. Book a table at Re Maurì
Our customers are enthusiastic about our proposals to such an extent that they have defined their stay at Re Maurì a multi-sensory experience, a magical experience that flatters and enraptures your senses.Evocative and refined, Re Maurì has always paid utmost attention to every detail: from the choice of the music to the interior design, from the staff always available to satisfy every customer's request to a wide selection of water suitable for every need. Our restaurant will know how to completely pamper you while creating an intimate and extremely refined atmosphere. All of this in the fairy-tale setting of the Amalfi Coast, perfect for dedicating a weekend to the discovery of art, culture and nature, that lend a dreamy atmosphere to our territory. Is there anything better that a magic touch to impress your better half with a surprise romantic dinner? We are well aware of the importance of a good dish that can make your palate fall in love.
For this reason, our chef Lorenzo Cuomo is constantly searching for the perfect union of tradition and innovation, of familiar flavours that evoke memories and unusual combinations that create new ones: the traditional flavours of Campania are reconsidered and suggested in a different guise that we are sure will surprise you. At the same time, particular attention is paid to aesthetics. Sure of the quality and tastiness of our dishes, our ambition drives us to please sight too. Creativity, colours and an accurate presentation complete your journey into culinary heaven.Re Maurì is suggested as the perfect location for connoisseurs who love good food and unusual atmospheres, a meeting point for those who wish to fully immerse themselves into the peculiarities of the Amalfi Coast: the delicious and fine food, the sweet whispering of the waves, the colours of sunset and the smell of sea salt will be the perfect scenery for your special and unforgettable moments. If we have aroused your curiosity and made your mouth water, come to Re Maurì!
If you wish to stay for the night, we offer packages that include a dinner here and a room at the Lloyd's Baia Hotel. Don't forget to book a table with a 24 hours' notice by filling in this form, otherwise call us at +39 089.7633687.
We will be waiting for you!
Read the other blog articles:
Gulf of Salerno
Gourmet italian restaurant
Oligomineral water
Celiac-friendly restaurant in Salerno
Best cauliflower recipe
Restaurant sea Italy
Where to eat in Salerno
Best restaurants Amalfi coast
Seafront Salerno restaurant
Monkfish cacciatore recipe
Romantic restaurants Amalfi coast