Are you looking for the best restaurants on Positano or Amalfi coast? You can tickle your palate with the rich and delicious local culinary tradition by savouring a lunch or a dinner.
At Re Maurì you will find all you are looking for in a restaurant, and even more: a great attention to details, a refined location, a fascinating view of the sea and dishes that will seduce you at first taste.
Dedication and passion are our secret ingredients, along with a generous sprinkle of attention to customers and a fistful of luck given by Mother Nature to our wonderful land.
Our commitment to making people get to know the typical cuisine of Salerno and of Campania in general, along with a constant inclination to culinary experimentation, earned us the Michelin star, an award that we are very proud of, especially because it was bestowed on us just two years from the opening of the restaurant.
At Re Maurì you will embark on a journey that will satisfy not only taste, but also the other senses. We have taken care of all the details in order to transform your stay here into a multi-sensory experience that we're sure you will want to repeat soon.
Re Maurì is the perfect location for many different events. You can organise here a surprise romantic dinner in a romantic restaurant on Amalfi coast for your partner, a business lunch, an evening with your friends or a celebration for a birthday or an anniversary.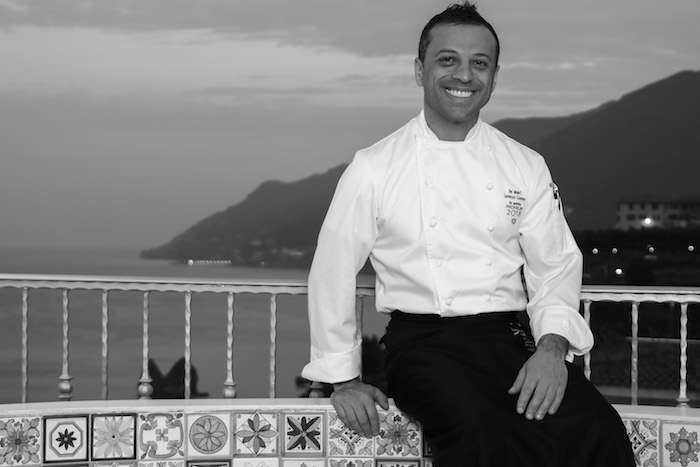 Lorenzo Cuomo, Re Maurì chef executive
Re Maurì's menu: the best seaview restaurant on the Amalfi Coast
The necessary basis for making a good dish is choosing the right ingredients. For this reason here at Re Maurì we carefully select the best products of our land in order to offer fresh and highest-quality ingredients.
Our never-ending challenge is succeeding in meeting every need and satisfying every taste. In our menu you will find sea and land flavours that are brought together in unusual yet original and harmonious combinations.
Our chef Lorenzo Cuomo's mission is in fact to merge the thousand-year-old culinary tradition of the province of Salerno and the new gastronomic frontiers. At Re Maurì, past, present and future intertwine and give birth to a unique and timeless dimension in which you will be able to try unprecedented flavours in a dreamy atmosphere.
Re Maurì is a benchmark in the entire Amalfi Coast because of its rich and exclusive dishes, made with attention down to the last detail as long as both the preparation and the presentation are concerned. You know what they say, you should also please the eye!
Whether you prefer meat or fish, you will certainly find something to your liking. You could also mix ingredients from different dishes and create your own customised menu.
Lobster, rabbit, sea scallop and duck are some of our most ordered and appreciated antipasti, garnished with ingredients that enhance every facet of the flavour: buffalo mozzarella, truffle, balsamic vinegar and herbs lend to the dishes a je ne sais quoi that will make you fall in love at first taste.
You can also choose among a wide range of primi piatti, the first courses: from fish dishes, such as the "Re Maurì" fish soup, to meat dishes, such as the fusilli with pork chop, ragu, onion and cacioricotta.
Lamb, monkfish, veal and especially the local tradition of the poached fresh fish make our secondi piatti, the main courses, a triumph of flavours, that combined with the side dishes create a perfect balance of flavours.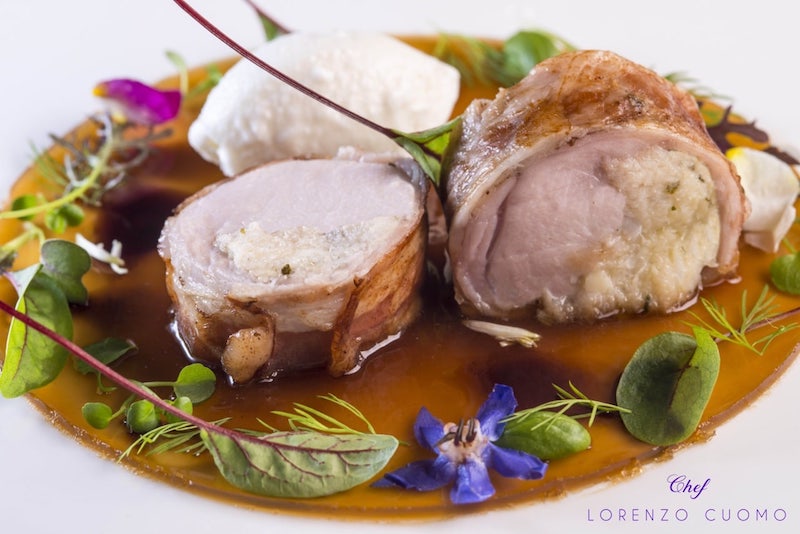 Spring Lamb with Foie Gras, Morel Mushrooms and Zucchini
Is something missing? Of course, a nice glass of wine to go with your meal! Wine is in fact a beverage that intensifies the flavour of food and, in turn, is enhanced by it. Our wine list includes over 850 labels among the most prestigious both locally and worldwide. Our sommelier will be at your service to suggest the best wine to match the dishes you have chosen.
And to finish your meal like a king, there's nothing better than dessert. Without any doubt, pastry-making is one of the numerous crown jewels of chef Lorenzo Cuomo, that prepares his creations every day with fresh and genuine ingredients. Every season has got its dessert: a hot summer afternoon will be refreshed by our Frozen Mojito or an almond sundae with white chocolate topping, while a cold winter evening will be warmed up by the rich and enveloping taste of the molten chocolate soufflé.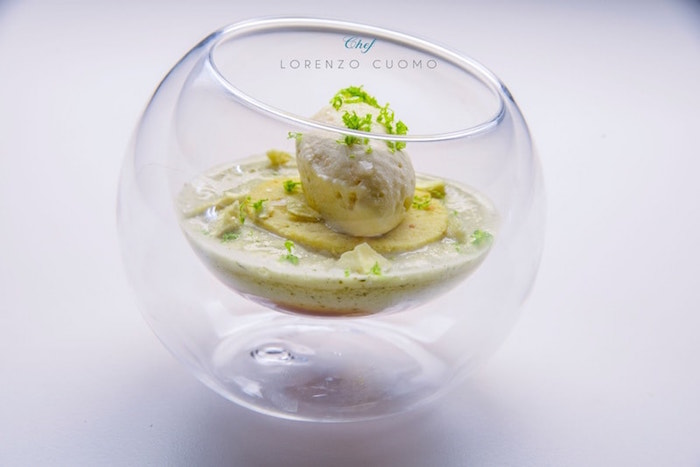 Mojito Frozen
We have mentioned just a small part of what we offer to our customers daily. If you don't know what to choose or if it's your first time at Re Maurì, you can opt for our tasting menu, that includes all of our most iconic and loved dishes.
You can see the care we put in our job also from our wide range of water. A lot of restaurants underestimate this possibility, but each body and each palate has different needs, and is there anything more important for the human being than water? After all, this substance makes up 70% of our body! At Re Maurì you will find a wide range of labels from three water categories: low mineralized, medium mineralized and minimum mineralized.
Re Maurì, the seaview restaurant of your dreams
Re Maurì is the perfect location for celebrating special occasions, birthdays and anniversaries, and, we don't see why not, allowing yourself a guilty little pleasure with your better half, your family and your friends.
The staff will take care of every customer's needs and guarantee that you will be welcomed and pampered for the entire duration of your stay with expertise and thoughtfulness. Chef Lorenzo Cuomo and sommelier Roberto Adduono will be happy to suggest the perfect dishes and wines for your taste.
Here at Re Maurì, when you sit at the table you are not just having a meal, but rather an experience, during which we will take complete care of you by offering only the best of our culinary mastery and hospitality, in the wonderful fairy-tale scenery of the Amalfi Coast. A unique view that will enrich your experience at Re Maurì with colours and sounds, as well as with a unique and unforgettable fascination.
Did we make your mouth water? Why resist? Book a table now giving at least 24 hours' notice by filling the form on our website or call us at +39 089.7633687.
Read the other blog articles:
Gulf of Salerno
Gourmet italian restaurant
Oligomineral water
Celiac-friendly restaurant in Salerno
Best cauliflower recipe
Restaurant sea Italy
Where to eat in Salerno
Fish restaurant Salerno
Seafront Salerno restaurant
Monkfish cacciatore recipe
Romantic restaurants Amalfi coast