Do you suffer from celiac disease or gluten sensitivity and you are looking for a celiac-friendly restaurant in Salerno or a celiac-friendly restaurant in Amalfi Coast? Here at Re Maurì we know that it's complicated for people with celiac disease to find a place to enjoy a delicious meal safely and peacefully. So we have decided that our cuisine would be celiac friendly in order to meet the needs of every single customer.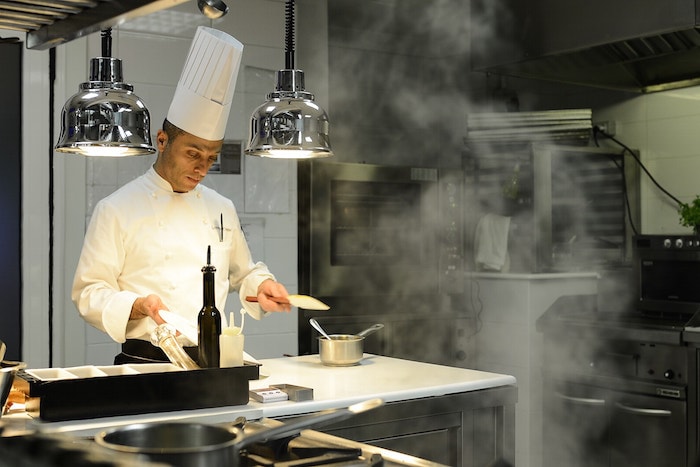 For this reason, in the next few lines we will try and explain what celiac disease is, how to identify it, and the foods that are and aren't allowed. At the end of the article you will find a list of useful resources to consult if you wish to make a gluten-free dish yourself, or taste the gluten-free gourmet dishes that Re Maurì prepares for its customers thanks to the experience and professionalism acquired by our chef throughout the years.
Celiac-friendly restaurant in Salerno: let's find out what celiac disease is and how to live with it
Celiac disease is a medical condition, a disorder due to a chronic and autoimmune inflammation of the small intestine that causes intestinal mucosa destruction. The trigger is gluten ingestion, a substance found in certain grains.
Prior to a definitive medical diagnosis, those who suffer from celiac disease can check their symptoms. They can be very diverse, therefore the disorder is often not identified immediately, at least not by the patient. However, although having one of these symptoms doesn't necessarily mean that you suffer from celiac disease, it's advisable that you consult your doctor if you notice the following symptoms, perhaps more than one at a time: alopecia, anemia, dermatitis, infertility or miscarriage, joint pain, gastric or esophageal ulcers, osteoporosis and diarrhea without weight loss. Moreover, celiac disease is more common in people that, besides showing the above-mentioned symptoms, are short.
If you think you might suffer from celiac disease, the first thing you should do is consult your GP, who will make an early diagnosis and suggest a specialist in the field. This preliminary phase should be followed by the actual diagnosis made by carrying out blood tests and a biopsy, which consists in removing a tiny piece of the small intestine. Only then will it be possible to determine whether the patient suffers from celiac disease and, if that is the case, in which stage. Only then will they be able to adopt all of the countermeasures necessary to live with the disease.
From that moment on the patient can indeed benefit from subsidies guaranteed by the healthcare system, such as the possibility to have a certain amount of gluten-free food for free at specific institutions.
Some statistics: cure, number of affected patients and transmissibility
Although it has been known for a while that many people believe they have celiac disease but they actually don't, celiac disease affects no less than 1% of the world's population, and in Italy the percentages are the same. That is to say that approximately 600,000 people in Italy suffer from celiac disease at some level, although for only 180,000 this was confirmed by a diagnosis. This means that on the one hand a certain number of people believe they have a disease that they actually don't have, and on the other hand quite a lot of people underestimate the problem, and this can be dangerous as well as highly advised against.
Women are more likely to be affected than men, although there is no scientific evidence that celiac disease can be genetically transmitted (it is not an infectious disease). In any case, it's an inflammation rooted in genetics, so it shouldn't be surprising that the closest relatives of the person affected, that is sons, daughters, brothers and sisters, are more likely to develop it.
To this day there is no cure for celiac disease, and the only thing you can do to protect yourself is follow a gluten-free diet your whole life, and also avoid every risk of contamination, that is to say make sure that tools that touched foods containing gluten don't touch gluten-free products.
Foods to avoid
To conclude this brief guide, let's make a quick list of the foods to avoid as they contain gluten. It's mainly grains: wheat, khorasan wheat, triticale, rye, spelt, barley and oat.
Clearly we will rarely eat these grains as they are. Rather, the problem lies in their derivatives: besides the different types of flour, which is a fundamental ingredient in the Mediterranean cuisine, they can be found in very common products such as pizza, biscuits, bread and so on.
Celiac-friendly restaurant in Salerno / Amalfi Coast: eat safe at Re Maurì
The stunning setting of the Amalfi Coast offers places in which people with celiac disease can sit at the table in peace and quiet. The restaurant Re Maurì, which was honoured with a prestigious Michelin Star, belongs to this special category, as we strongly believe that no one should be denied the possibility to savour a top-quality lunch or dinner, regardless of their health conditions.
Therefore we encourage you to read our menu and to contact us for further information on the dishes that our chef Lorenzo Cuomo prepares in person for customers that suffer from celiac disease or gluten sensitivity in complete safety and in accordance with the tightest restrictions in terms of gluten-free cuisine.
We want to offer a unique experience to each and every one of our customers in a charming setting just a few steps away from the sea, within the experience and professionalism that our staff can offer.
Re Maurì is located in via Benedetto Croce, Salerno, and is open every day except Tuesdays from 12.30 to 2.30 and from 7.30 to 11 pm (we only open for the evening on Wednesdays). Therefore we encourage you to book a table by filling in the specific form you can find on our website, or by calling us at 089.7633686 or at 089.763387.
Read the other blog articles:
Gulf of Salerno
Gourmet italian restaurant
Oligomineral water
Best cauliflower recipe
Restaurant by the sea in Italy
Best restaurants Amalfi coast
Where to eat in Salerno
Fish restaurant Salerno
Seafront Salerno restaurant
Monkfish cacciatore recipe
Romantic restaurants Amalfi coast