Where to eat in Salerno? If you happen to be on the Amalfi Coast and you would like to plan a special evening for you and your partner, a reception after a ceremony, a business lunch or if you simply wish to make your guests discover the local delicacies, you are probably wondering where dine in Salerno. Don't waste your time browsing the Yellow Pages, we have the solution to your problem. Come and visit us at Re Maurì!
Our restaurant is perfect for savouring the typical yet skilfully revisited dishes of the Amalfi tradition.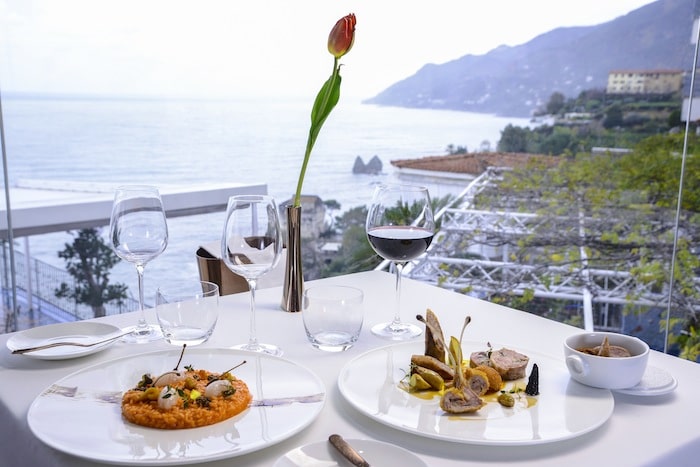 A typical view from Salerno restaurant.
The Amalfi Coast is renowned for its blue sea, its rocky beaches, its towns overlooking the sea in which the air smells like history, warmth and hospitality. Among the numerous beauties of Salerno in which you should immerse yourself at least once in your life, its cuisine deserves a place of honour, as it's a masterful expression of how he have always combined sea and land flavours, resulting in a perfectly balanced blend.
Bufala Mozzarella, Paestum's artichokes, Spring onions from Agro Nocerino, San Marzano DOP Tomato are just a few examples of the Salerno area food goodness.
A tourist has certainly stopped you and asked you for information at least once. Between streets and monuments, visitors in Italy are also interested in restaurants where to savour the authentic traditional flavours. You cannot possibly give better advice to tourists than suggesting they come and visit us at Re Maurì, but you are probably wondering, at this point, what makes us stand out among other restaurants.
We are not being overly presumptuous when saying that an experience at Re Maurì is special and unique, and not limited to a pleasure for the palate. Are you curious to know why?
Re Maurì is the perfect place to comprehensively satisfy your senses. First of all, we wish to highlight our dreamy location. The restaurant includes in fact an open-air terrace from which you will be able to admire the view. The sky and the sea intertwine and create dreamlike and evocative images, with the whispering of the waves and the warm colours of sunset. A romantic atmosphere perfect for a candlelight dinner in Salerno.
A winning combination of fairy-tale landscapes and attention to the interiors, finely furnished to offer comfort, elegance and the possibility to see what happens behind the scenes thanks to an open-plan kitchen, decorated with ceramics typical of Vietri sul Mare. Sobriety, taste and modern elegance are our strong suits.
Whether you choose the indoor dining room or the open-air terrace, you will be sheltered from the noisy town and lulled by the soft background music and the conversations of your dining companions.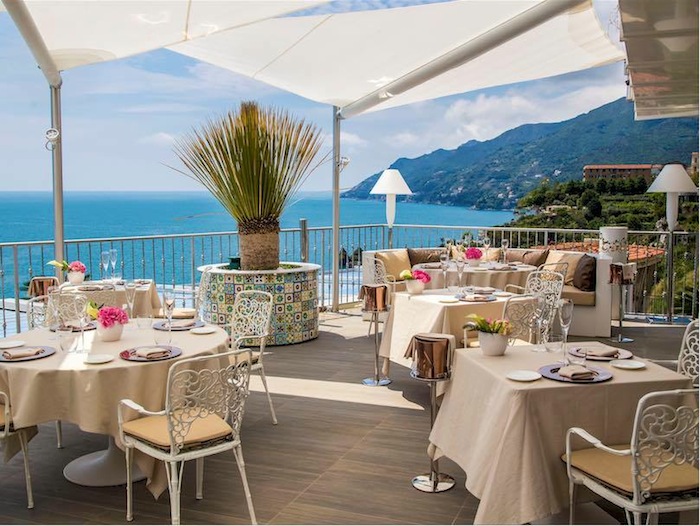 Panoramic rooftop of Re Maurì restaurant in Salerno.
Our menu is quite rich and includes both fish and meat dishes in order to satisfy every taste. One of the solutions that our customers appreciate the most is our raw buffet. It's served on the terrace during spring and summer, and it's a unique occasion to savour some good fish and, at the same time, enjoy the alluring smell of sea air.
Our chef Lorenzo Cuomo, throughout a constant study in the culinary field, has succeeded in creating extraordinary dishes that are meeting points between the most traditional flavours of Salerno's thousand-year-old history and an inclination towards experimentation. Innovation and respect for the past, celebration of the local culinary brilliance and a tendency towards innovation are our crown jewels, which made us earn a Michelin star just two years from the opening. The chef himself takes great care of each and every dish, from choosing the finest and high-quality ingredients up to dish composition, a feast for the eyes thanks to the chef's creative touch.
Lobster with hazelnut butter, caramelised endive and bitter herb and green apple cream or fish soup? Rice with friarielli and small cuttlefish or tortelli with Buffalo Ricotta and tuna roe? If you can't make up your mind, we suggest you try our tasting menu that includes our guests' most ordered and beloved specialities.
However, the palates that prefer meat won't be disappointed. Our menu includes numerous rabbit, duck, lamb and pork chop recipes, along with side dishes that recall Salerno's typical flavours.
We obviously haven't forgotten about a key element: water. In order to guarantee the perfect level of hydration during your meal, Re Maurì has selected the best low-mineralized and medium-mineralized water in order to offer only the best for every digestion.
The passion and attention that unites us, now just like then, and that allowed us to find our way into our customers' hearts translate into little yet important gestures to pamper our visitors. High-quality service, over 30 Cuban cigars to round off a lavish meal and a professional staff, always kind and ready to satisfy any request, are the finishing touches to what Re Maurì has to offer which make it the best place to give yourself a delicious treat.
The best of Salerno's cuisine at Re Maurì: book a table now
If we have whetted your appetite (but not only), don't hesitate! Come and visit us with your friends, your family, your colleagues, or plan a surprise dinner with your better half. Our staff will be happy to suggest the most typical dishes and our sommelier Roberto Adduono will select the wine that pairs best with your lunch or dinner. Our wine cellar boasts over 800 labels, both local and international. It will be easy to find the perfect match to bring out the flavours.
And finally, our chef Lorenzo Cuomo will show you his crown jewel. Our delicious desserts will be the icing on the cake, to use a dessert metaphor, thanks to our wide range, from our hot chocolate soufflés, to our ice-cream, to our frozen mojito to cool you down on those hot summer days. A joyful taste explosion that will make you want to repeat the experience as soon as possible!
It's really easy to reach our restaurant. We are located on the road between Salerno and Vietri sul Mare, in the heart of the Amalfi Coast, the perfect place to take a break from your stressful daily routine and, we don't see why not, dedicate a weekend to the discovery of picture-perfect locations that will be the magical setting of your holiday.
Don't forget to book a table giving at least 24 hours' notice, so that we can greet you as best we can. Fill in this form or call us at 089 76 33 687.
Read the other blog articles:
Gulf of Salerno
Gourmet italian restaurant
Oligomineral water
Celiac-friendly restaurant in Salerno
Best cauliflower recipe
Restaurant sea Italy
Fish restaurant in Salerno
Best restaurants Amalfi coast
Seafront Salerno restaurant
Monkfish cacciatore recipe
Romantic restaurants Amalfi coast